Upcoming USCIS Fee Changes for Employers
USCIS will implement a new fee schedule on October 2, 2020, and with it, new versions of several key employment-based immigration forms, including new editions of the Form I-129 nonimmigrant worker petition for H-1B, L-1, O-1 and other key nonimmigrant categories.  The new fee schedule also ushers in a longer timeframe for premium processing. 
The following are answers to frequently asked questions about the new fee schedule and related processing matters, based on the latest fee regulation and new guidance issued today by USCIS.
What are the new fees for employment-based filings and related applications?
Employers will be subject to the following new fees for petitions and applications: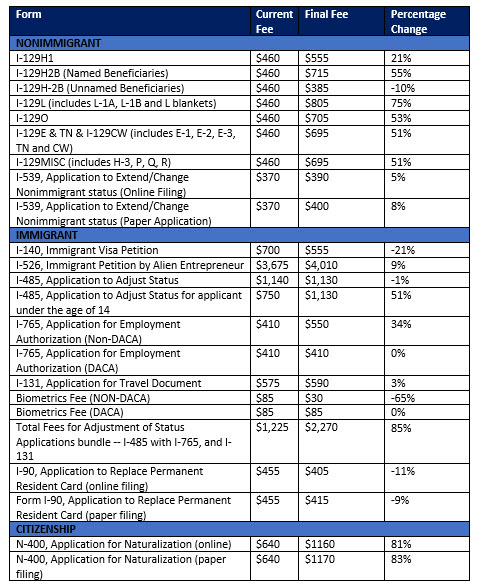 When will the new fees take effect?
Petitioners and applicants will be subject to the new fee schedule for all cases postmarked October 2, 2020, or later. USCIS filings postmarked October 1 or earlier are subject to the current fee schedule. Cases filed with the incorrect fee will be rejected and returned.
Will USCIS publish new immigration forms reflecting the new fee schedule? When will the new forms become available?
Yes, USCIS plans to publish new versions of several employment-based immigration forms to coincide with the new fee schedule. Notably, there will be a separate edition of Form I-129, the nonimmigrant worker petition, for each key nonimmigrant worker category, including H-1B and L-1. USCIS will also issue a new Form I-765, application for employment authorization, among others.
The new forms will be mandatory for petitions and applications postmarked October 2, 2020, or later. USCIS has not yet disclosed when it will make the new form editions available to the public. Filings postmarked October 1, 2020, or earlier must be filed on the current form edition.
How does the new fee structure affect premium processing service?
Though the $1,440 fee for premium processing will not change, the processing timeline will be longer.
For premium processing requests postmarked October 2 or later, the processing period will be lengthened to fifteen business days – or up to an additional week – from the current timeframe of 15 calendar days. Business days will not include federal holidays or any day on which the federal government is closed for business, such as for national emergencies or inclement weather. Local and regional federal office closures can also prolong the premium processing timeline, if a case for which premium processing is requested is being adjudicated in an area affected by such a closure.
How does the new fee structure affect applications for adjustment of status to permanent residence? Are pending adjustments filed before October 2, 2020 affected by the new fee rule?
When the new fee regulation takes effect, applicants for adjustment of status will be required to pay a filing fee of $1,130 and separate fees of $550 and $590 respectively for each application for employment authorization and advance parole filed while the adjustment is pending. The new fees apply to all adjustment applicants, including those age 14 and under, who are subject to reduced filing fee under current rules.
Adjustment applications postmarked before October 2, 2020 are subject to a filing fee of $1,225 (or $750 for applicants under age 14). The fee includes applications for new and renewed advance parole and employment authorization, even after the new fee schedule takes effect, provided the application is postmarked before October 2.
How do the new fee structure and forms affect FY 2021 H-1B cap cases?
In mid-August, USCIS ran a second lottery for the FY 2021 H-1B cap season. Employers whose cap registrations were selected in that lottery must file their petitions by November 16, 2020. 
Cap cases postmarked before October 2, 2020, are subject to the current USCIS fee structure and existing USCIS forms. Cap cases postmarked October 2 or later will be subject to higher filing fees and a new Form I-129 H-1B petition that has not yet been released.
Is the new USCIS fee structure be challenged in court? How would a lawsuit affect petitioners and applicants?
Yes, the USCIS fee regulation is being challenged in Immigrant Legal Resource Center et al., v. DHS, et al., a lawsuit pending in federal district court in California. The plaintiffs are seeking a preliminary injunction to block USCIS from implementing the new fee schedule while the lawsuit is underway.
If the California district court issues an injunction against the rule, USCIS may be required to revert to its current fee schedule and forms, though the agency is expected to appeal any injunction in the case.
What should employers do now to prepare for the new fee schedule?
Sponsoring employers should account for the budget impact of increased filing fees, and should take into consideration the longer premium processing timeline when planning Form I-129 and Form I-140 filings.